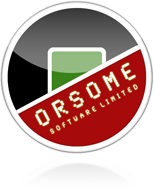 July 22nd, 2010
A change in the Weather
Popular NZ App gets refresh for iPad
The iPad will be released in New Zealand tomorrow, and our apps have been refreshed in antici...pation. The new version of WeatherNZ uses the full screen of the iPad and has all the same features of the iPhone app. In fact, Its a universal binary so you don't even need to buy a special copy for your new gear.

If you haven't already bought it, then tap the icon to the left of this column to go straight to the AppStore. In no time at all you'll have the most accurate forecast information available, right on your device.
November 24th, 2009
Safety in the Summer
Update to WeatherNZ for the new season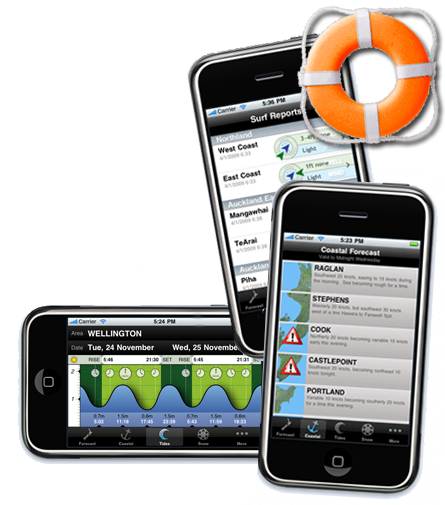 Down this end of the world, the weather is improving. If you are out in the water this summer, you will want to make sure you are well informed of the conditions out there. Orsome has just submitted an update to the WeatherNZ app that adds recreational marine forecasts for all areas around NZ.
If you buy the app now, you will get this feature for free the moment the update ships. Even without this feature the coastal, surf and tidal areas of the existing app may be life savers for you now.
The update includes a few other improvements too.
There are changes to moon phases, sunrise/sunset times on the tides page and overall, data is updated more frequently.
As always, you can get this by browsing for WeatherNZ in the appStore.
It also features at the top of the list in the Weather category.
So to all the Kiwis out there, Have a fun and safe summer!
July 1st, 2009
Wake up to Orsome
As seen on TV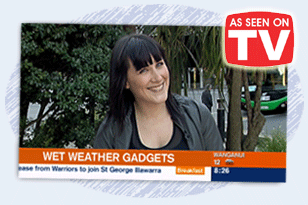 Welcome to those of you that have discovered us after the mention on the Breakfast show this morning. Their Gadget Girl, Tee Twyford, pointed out our popular WeatherNZ App for those of you that want to be best informed about what the weather is doing around New Zealand. Follow this link to read the story, or Click here to get this app onto your own phone or iPod touch now.
And while you are at the AppStore, you should go grab BubblePro. We're going to give US$500 to whoever is at the top of the score board on Saturday, July 4th. We're making history here...
May 14th, 2009
The outlook for Thursday
WeatherNZ turns 1.5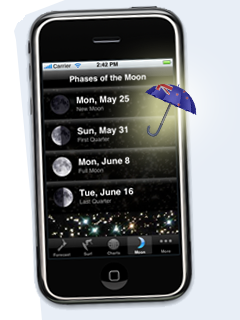 If you haven't already grabbed it, you should check the updates area under the appStore and get the new revision to WeatherNZ.
It fixes that annoying problem that some of you spotted when changing your set of areas. It also adds to the list of marine areas shown, and improves the Snow area ready for the new season.
Hot on the heels of this version is another update that should be available to you soon. This will add in a screen showing the dates for the phases of the moon, which will be handy if you are a werewolf planning your next night out.
November 15th, 2008
The surf is up
Hang 10, another update wave is due...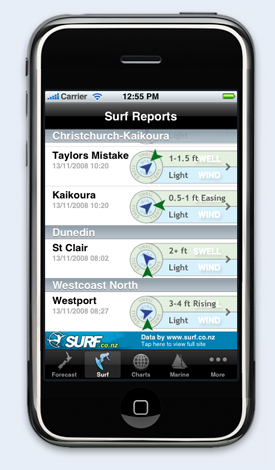 The snow season has all but ended, but summer is just around the corner. And to make sure you are prepared, the guys from surf.co.nz has now made available their content to the WeatherNZ app. The new 1.4 update includes this much requested data, at no additional cost.
The new area shows the latest wind and swell information at a glance, and a single tap to take you thru to the full site to see latest image, forecast data and loads more.
Go launch the appStore for your update, then go grab your board and hit the beaches. Don't forget your sunscreen now. :-)
October 23rd, 2008
A change in the weather
New version of WeatherNZ ships

Version 1.3 of the weather app is out. I'm sure you'll like the improvements. We have also addressed the issue regarding the sunrise/set times for primary ports. It may take a few days for this change to filter thru as the program does cache a week of this data.
As always, send us any feedback regarding this update. We want this to be the best it can be.
October 21st, 2008
Reclaiming the top spot
Its been a while since we had a brag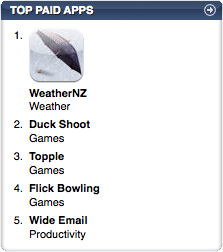 It was one of our first apps, but it still gives us a thrill to see it take out the #1 spot. Thanks for your ongoing support.
The new version is just awaiting approval from Apple and should address the niggles a few of you have had regarding using the app when you are offline. The recreational marine data will please a few more of you too. Hopefully, there won't be much more of a wait. Keep an eye on the appStore for the free update.
October 18th, 2008
Special Pre-Sale price on WeatherNZ
A change is in the wind...

Version 1.3 of the WeatherNZ app is due out any day now, and for a short time only, we have reduced the price of the program to give more of you a chance to see how handy this app is.
The new vesion sports a few new graphics and works better when you are offline, launches faster and shows you last known data if nothing newer is available. Also, due to the number of requests we received, we've added in some marine forecasts for you all. Go grab it now, and you will get the 1.3 update for free as soon as it turns up on the appStore.
Aug 12th, 2008
The outlook is mighty fine...
"Updated weather app adds polish and new features..."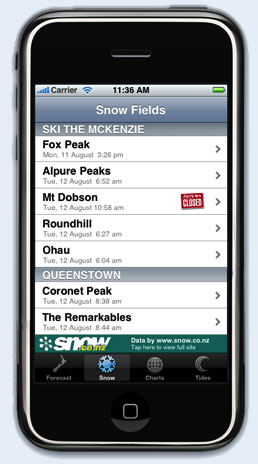 Orsome Software has just gone 'Golden Master' on the next revision of their successful WeatherNZ application for the iPhone and iPod Touch.

Now, in collaboration with www.snow.co.nz, we are able to provide up-to-date reports from all NZ slopes. Simply tap an item in the list and see all the available data, right at your fingertips.

This version adds in the urban areas missed on the initial release, adds new icons, and also gives you a number of other features, all with no upgrade cost. What a bargain!

Now you can see last reported temperature, wind speed and direction for any New Zealand urban area. This data comes straight from the MetService of NZ and is updated eight times a day, When you get this app loaded, make sure you try rotating the device. The Tide display looks 'O for Orsome' sideways, and now displays two days of tides at a time, with accurate sunrise/set times to boot.
It may take a few days for this to filter thru the system, so just keep an eye on your AppStore updates button for news of its release.
Thursday, Aug 7th, 2008
Thanks for the encouragement...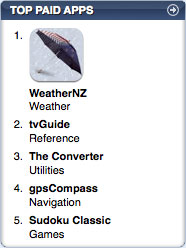 Many thanks to all you gadget loving kiwis out there, for supporting local developers! All your feedback is welcome, and upcoming updates to all programs are in the works that answer the most popular requests, these app are only going to get better...
Its not so bad with our tvGuide being knocked off the top spot by our latest offering. :-)
Aug 6th, 2008
Weather, Weather, Everywhere...
"Our much anticipated, weather application has made it to the store"

WeatherNZ is the best way to get accurate weather information on your phone or touch. With up to date data, fresh from NZ's own MetService, you can now see the same feed of information that goes into our papers and to local TV. Tide data supplied by LINZ is great for anyone working or playing around the coastline, or for the rest of us that just like to see wizzy cool charts. Check out the Sitation maps too, updated several times a day.
Available by searching for 'WeatherNZ' on the appStore now.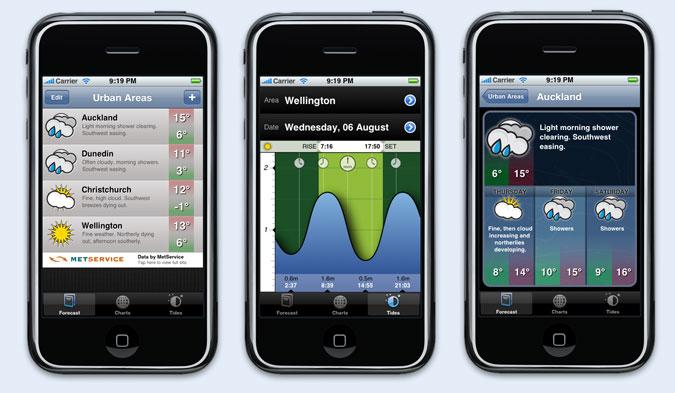 PS: Due to a fault at my end, Greymouth, Hamilton, Levin and Hokitika are not present on this first release of our app. This will be addressed in a free update that will ship shortly.
Aug 1st, 2008
Something for a Rainy Day...
"Always be prepared"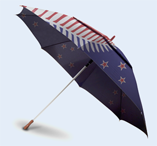 The built in weather app is kinda handy to see how our temperatures compare to other places in the world, but when it comes to more accurate data, you really need to see forecast information, issued by our own MetService of NZ. Now this valuable information is available on your touch or iPhone. Choose from any urban area in NZ, and see up to 4 days of forecast temperatures, along with a short outlook for each area.
For those that want to interpret the isobar charts themselves, the latest chart can be viewed, zoomed and scaled right on your device, updated twice a day.
As well as this forecast data, WeatherNZ has a complete set of tide information for all New Zealand primary and secondary ports. Essential for all boaties, fishers or recreational users of our coastline. If you need a more extensive report, the program makes it easy for you to click thru to the full metservice.com site.
This program should appear on the appStore shortly. I'll upload a few screen shots before then.
PS: The 'MyTrades' app went live today, go grab it now!.